The dead no longer come out.
When the dead came out, tales of apparitions were the order of the day, as they often appeared, either out of a simple desire to frighten, or to make revelations to those who wanted to hear them, or to ask for masses.
---
The most common manifestations were: a hen followed by her chicks; a black dog that did not bark; a newborn baby crying or a headless man. Another form, although not visible, was dragging chains or knocking on doors.
We have already said that some apparitions made revelations, including the indication of some place where there was money buried, which were not few according to the common people, since there were no banks, the savings went to a clay pot, or other appropriate container, which after being buried under the bed, or at the foot of an old tree, which was the most common thing to do.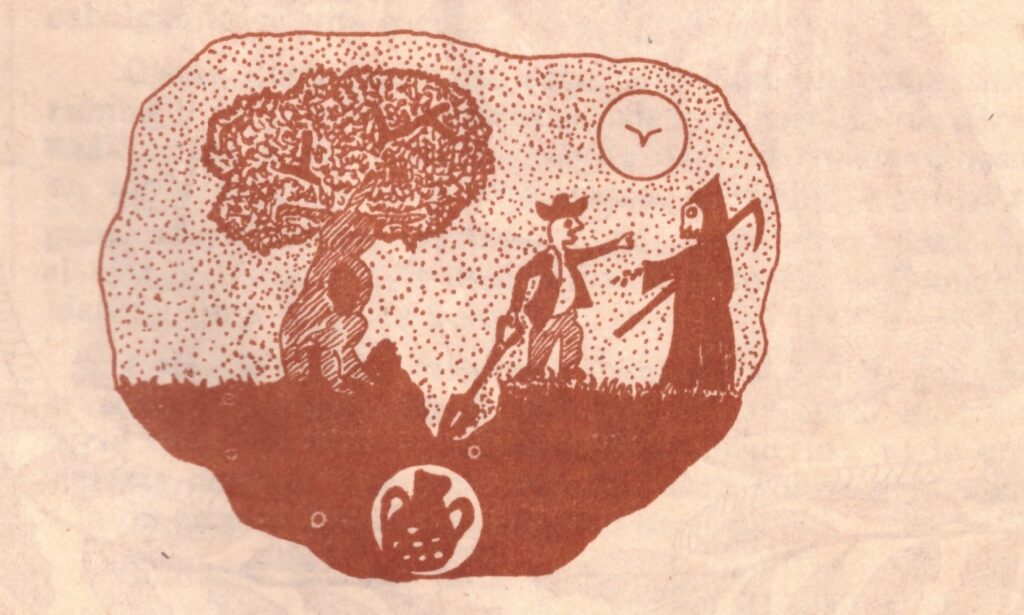 If, on the one hand, there was no lack of faint-hearted people who wanted nothing to do with "dead people's money", others were looking for it with zeal. But they were also divided into two classes: those who had no doubt that, upon finding the burial, they would find good peluconas[1]Slang word used for referring to Money and doubloons; and those who, a little suspicious, because, being the dead, what they would find would be coals, which had to be sprinkled with holy water, so that they would be transformed into constant and resounding pieces of gold on the spot. The final result was the same.
A revelation of such a nature was made to a Canary Islander, named Don Carlos, foreman of a repair crew of the railroad, in the section of this city to Azotea de Mora, and neither slow nor lazy, he used the men of his crew to open a deep hole, next to an old mamey, immediately to the track, at the exit of the town; and firmly believing that he would find the said coals, he went pulverizing the earth that his laborers were taking out, ready to make use of the holy water; but it seems that the dead man lied to him, because the result was absolutely negative.
---
If the reader believes that this islander, who knew how to read and write, was crazy, he should know that such belief was very popular among the seekers of buried money, or "dead men's money" as it was called, who were always looking for a route, or indication of the place where there was, or should be a burial; a hobby or hobby that has had to disappear because, as has been said before, the dead no longer come out, neither to put fear, nor -what is more regrettable-, to tell where the guaca[2]Another Slang word to refer a place where people used to keep Money safe is.
---
Author: Florentino Martínez
Edition: Ángel Cristóbal García
Illustrations: Fernando Caluff